(001_Arrival)
I pulled into a parking space in front of Tiny Telephone at 10:45 AM. As a trio of sketchy-looking characters tinkered with a jalopy in the spot next to me, I peeked at the three guitars, vintage Fender amp, bagful of cables, and other gear in the back of my car, all in plain sight. Do I risk leaving this stuff in the car while I go into the studio to let someone know I'm here? I wondered.
Before I had time to think about it, the door to the graffiti-covered, industrial-looking building in front of me swung open and out walked John Vanderslice, owner of Tiny Telephone and the producer of my album.
"Let me give you a hand buddy," said JV as he walked toward my car.
And with that I was whisked into Tiny Telephone, my home for the next five days.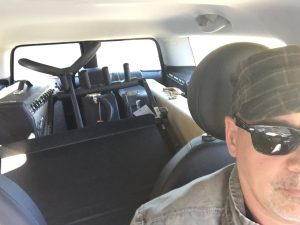 (002_Origins)
How did I get here?
I've been a home recording enthusiast for many years, but I never thought I'd have a chance to record an album in a professional studio. Then, in early 2015, I read about John Vanderslice's Kickstarter campaign to finish building his Tiny Telephone studio in Oakland. I jumped in and was rewarded with ten days of studio time.
At first, I planned to record with some of my longtime StationWagon bandmates. As the months passed, however, it became clear that we couldn't find the time to practice – not even on an infrequent basis – so I made the call to go with Plan B, whatever that might be.
When I explained my situation to JV (i.e., that I wanted to make an album but didn't have a band), he told me not to worry.
"I'll think about it for a few days," JV wrote, "and get back to you with some options."
Sure enough, he emailed later that week to let me know he had the perfect solution.
"This is a band I would be jealous of!!!!!!!" he said.
And just like that … the band was born.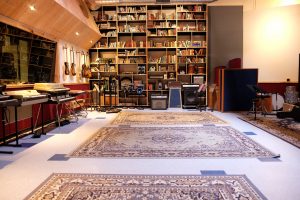 (003_Setup)
After leading me on a quick tour of the facility, JV had me wait off to the side as he began setting up the room.
Soon we were joined by the musicians. Jason, the drummer, arrived first, with his dog Johnny in tow. Then it was Rob (keyboards) and Carly (guitar and vocals). I was excited and nervous as I watched the others get their instruments and gear in order.
It took about 1.5 hours to choose the right gear, put amps in place, and run a gazillion mics and cables all over the room. I was instructed at some point to grab my guitar and play my songs.
I'm not sure how much the others listened, but I was glad to play. It gave me something to do while everyone else was working. It also helped me kill a couple of the butterflies flitting around in my stomach.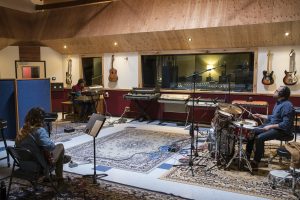 (004_Isolation)
The isolation booth was my home for the day (as it would be for a large part of the following two days).
Jason, Rob, and Carly played in the main room, while I strummed my acoustic guitar and sang scratch vocals from the cozy confines of the glassed-in booth. We all wore headphones and communicated with one another (and with JV in the control room) by speaking into microphones.
It was a lonely feeling at first to only hear myself in the headphones, but I'd soon pick up the sounds of the others figuring out their parts and getting into the groove. It didn't take long before they were all jamming at warp speed while I tried to keep up.
Each of the musicians added their own touch to the songs, with Rob often serving as the translator of my half-formed ideas into something that everyone could wrap his and her head around.
By the end of the Day One, we had laid the foundation for four songs (In Chinatown, Eyes Wide Shut, Speak Your Mind, and Nobody But You). When he felt like we had a good version, JV would call us into the control room to review the playback. I screwed up here and there, but he reassured me that we'd clean it up later.
"It sounds awesome buddy," said JV, reminding me that the goal for today was to capture the session players. "We'll go back later to re-record the acoustic guitar and lay down the vocals."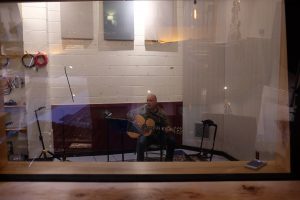 (005_Hearing)
After years of home recording, I've become hyper-sensitive to loud noise of any kind. So, going into Tiny Telephone, I worried about whether my ears could hold up. As we began to play, I made a conscious effort to keep the volume down as much as possible, but maybe I was being overly cautious.
During one of the songs, Jason asked, "Greg, can you hear the drums in your headphones?"
I could hear the drums alright. I just couldn't quite get a feel for everything else going on in the mix, which caused me to stray from the beat at times.
With coaching from JV and the others, I plowed through my rookie mistakes while remaining mindful of not blowing out my ears.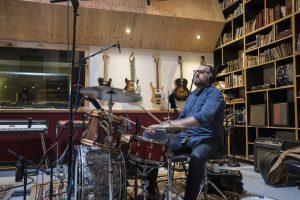 (006_Pooch)
A word about Johnny, Jason's terrier-beagle.
This dog was the perfect studio companion. Sure, he wanted attention, but he'd wait until we took a break before sauntering over for neck scratches and belly rubs. Such a good pooch.
Johnny even joined the musicians in the main room during part of the day. Again, he didn't cause any commotion whatsoever, except for uncorking a prodigious fart during one of the songs. Fortunately, I was sealed off in the isolation booth at the time.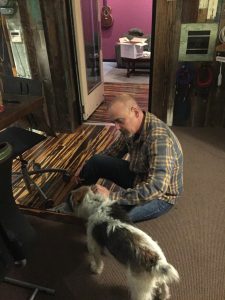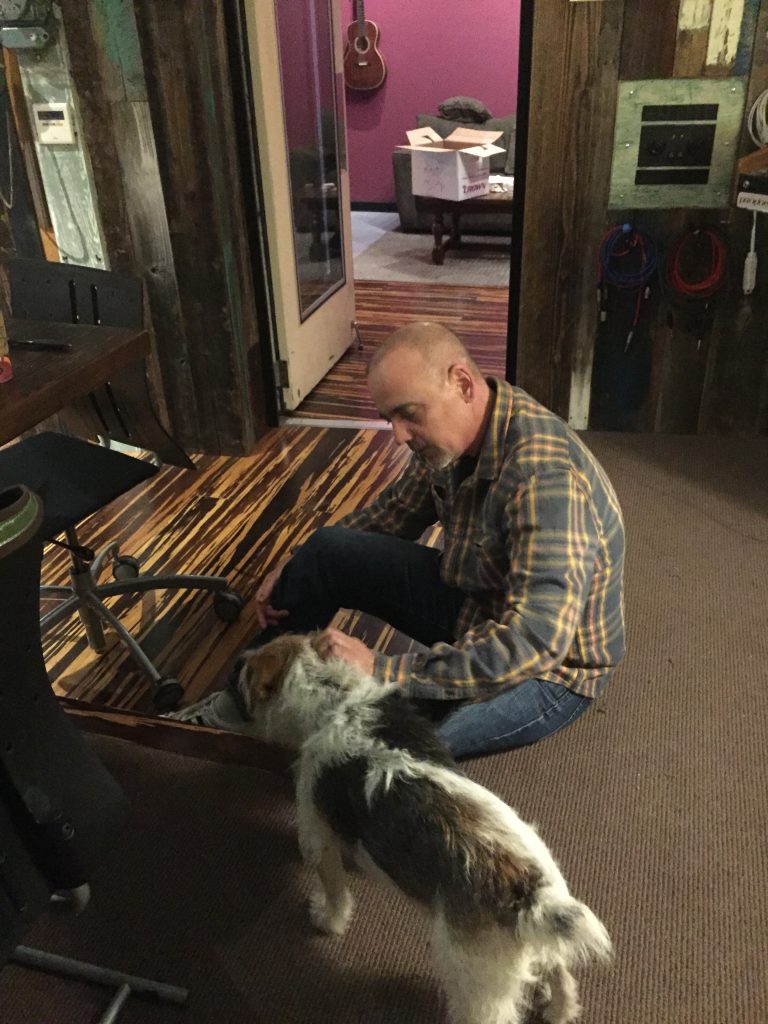 (007_Challenges)
If possible, Day Two was even better than the first. Okay, let's call it a draw since both days were equally awesome. That's not to say there weren't any challenges, most notably my ongoing struggle to stay locked in with the band. Doh!
It's interesting to hear these musicians, these people I've just met, put their stamp on my songs. As we listened to the songs during playback, I never would have thought my music would sound like this – it's an incredible feeling actually.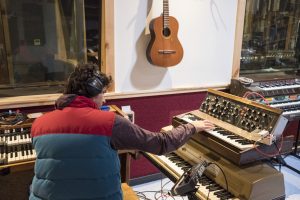 (008_Lunch)
I learned early on that lunch is important to the people of Tiny Telephone.
From the moment we arrive in the studio, there's enthusiastic chatter about where to go for lunch. Suggestions fly. Recommendations are made. How about here? What about there? Did you like that place we tried last week? And on it goes.
Then, after a lunch spot is chosen for the day, it isn't long before someone throws out suggestions for where to eat tomorrow.
Yes, food is important at Tiny Telephone.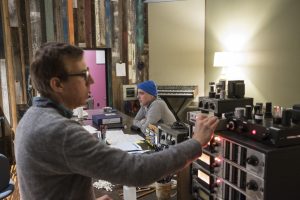 (009_Photos)
A few months ago, I ran into Henrik Kam, a friend from the neighborhood and an accomplished photographer. While chitchatting about this and that, I mentioned my upcoming Tiny Telephone sessions, and Henrik asked if he could stop by.
Wow, I thought, wouldn't it be great if Henrik dropped by the studio to take pictures of my recording session? 
Indeed, he showed up on Day Two to document the band at work – and play.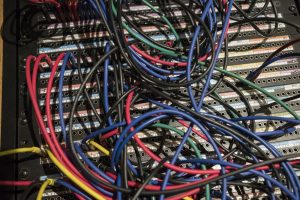 (010_Layers)
We recorded the foundations for another four songs on Day Two, making it through A Moment in Time, Hey World, I Heard the News, and Fool's Gold.
Jason had to leave early, so Rob and Carly added different instruments to some of the songs. Carly played a bass clarinet solo on Nobody But You, and she and Rob took turns playing bass on a couple of songs. I soon realized that by adding the right mix of bass, or synthesizer, or percussion, or clarinet, Jason, Rob, and Carly made the music sound even better.
I was in heaven just taking it all in, though in my mind I couldn't stop thinking that it would soon be time to record my vocals.
Oh man, I thought, a daunting task awaits!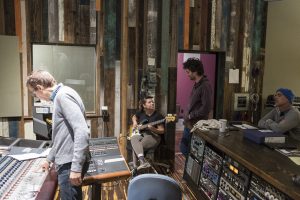 (011_Believer)
We started Day Three by recording the foundations for the last two songs, We Met in Latin Class and Let's Ride.
In many ways, I didn't know what I was getting into when I signed these musicians on to play my songs. Yes, I could see they all had great credentials, and they all came highly recommended by JV, but I wouldn't really know how they'd sound playing my songs until we got together in the studio.
Now that we've finished our three days of playing together, I'm a believer.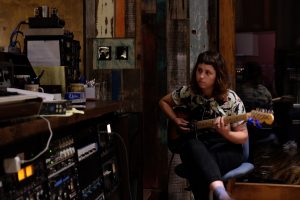 (012_Leap)
Come to think of it, this entire endeavor has been one leap of faith after another.
My first leap came when I pledged money to the Tiny Telephone Kickstarter campaign. My motivation was to record my original music in a studio, but I didn't really have much of a clue about what I was getting myself into. The next leap occurred when I chose to trust JV to find the right musicians for the sessions. And the third leap came when I trusted these musicians to run with my songs.
Anyone who knows me knows I can knit-pick my creative endeavors until the end of time (and that's no different with this project), but as far as I'm concerned, everything has come together perfectly.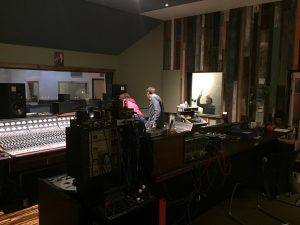 (013_Sleepless)
I haven't gotten much sleep this week. I don't know what's going on, but it feels like I have jet lag, as if going to Tiny Telephone every day has been a journey to another world.
Day Four is done. Today was the day I cleaned up my guitar parts. I also laid down some vocals. It was fun to hang out with JV. He kept the trains running on time, plotted out our lunch plans (of course), and ensured that we had a productive day.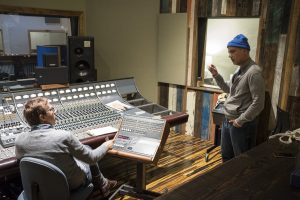 (014_Zaza)
Our highlight today came while we were on our way to lunch and spotted Golden State Warriors center Zaza Pachulia.
"Hey," I said as JV pulled his car into a small parking lot in front of some shops, "that's the guy on the Warriors. That's Zaza."
"What?" said JV, who leaped from the car while it was still rolling into the parking spot.
I waited for the car to stop and followed JV across the parking lot to shake Zaza's hand and tell him to keep up the good work with the Warriors.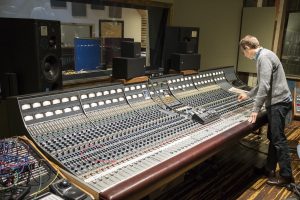 (015_End)
It was my fifth and final day in the studio. We worked on vocals for three songs for Carly and me. Carly also did another take of her clarinet solo on Nobody But You. After that, we listened to the songs one more time to make sure everything sounded good.
And that was the end of my time in the recording studio. Now that we were finished recording the album, JV would spend the next three days corralling the mix.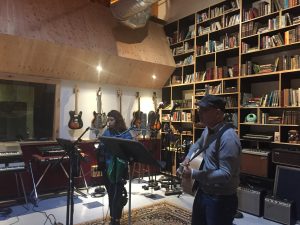 (016_Movie)
On the day after we finished recording, RL and I went to see the movie Contemporary Color. It's a documentary that takes you behind the scenes of a project organized by David Byrne in which he paired musicians with color guard teams for a special once-in-a-lifetime performance.
I never thought I'd be watching a film about color guard, but there I was … and I loved it. Something that resonated strongly with me was the emotions expressed by the performers when they came off the floor after what would be their last performance of the season (and for some the last performance of their color guard career).
The performers were obviously thrilled to have been part of the unique artistic experience. You could hear the exhilaration and excitement and exhaustion in their voices; you could also see it in their expressions and in their interactions with one another other. You could also feel a sense sadness as the reality sunk in that their time together was coming to an end.
I could relate to much of what these performers were going through now that my brief time at Tiny Telephone had come and gone.